[English Blog] Case study | Sống mới với cũ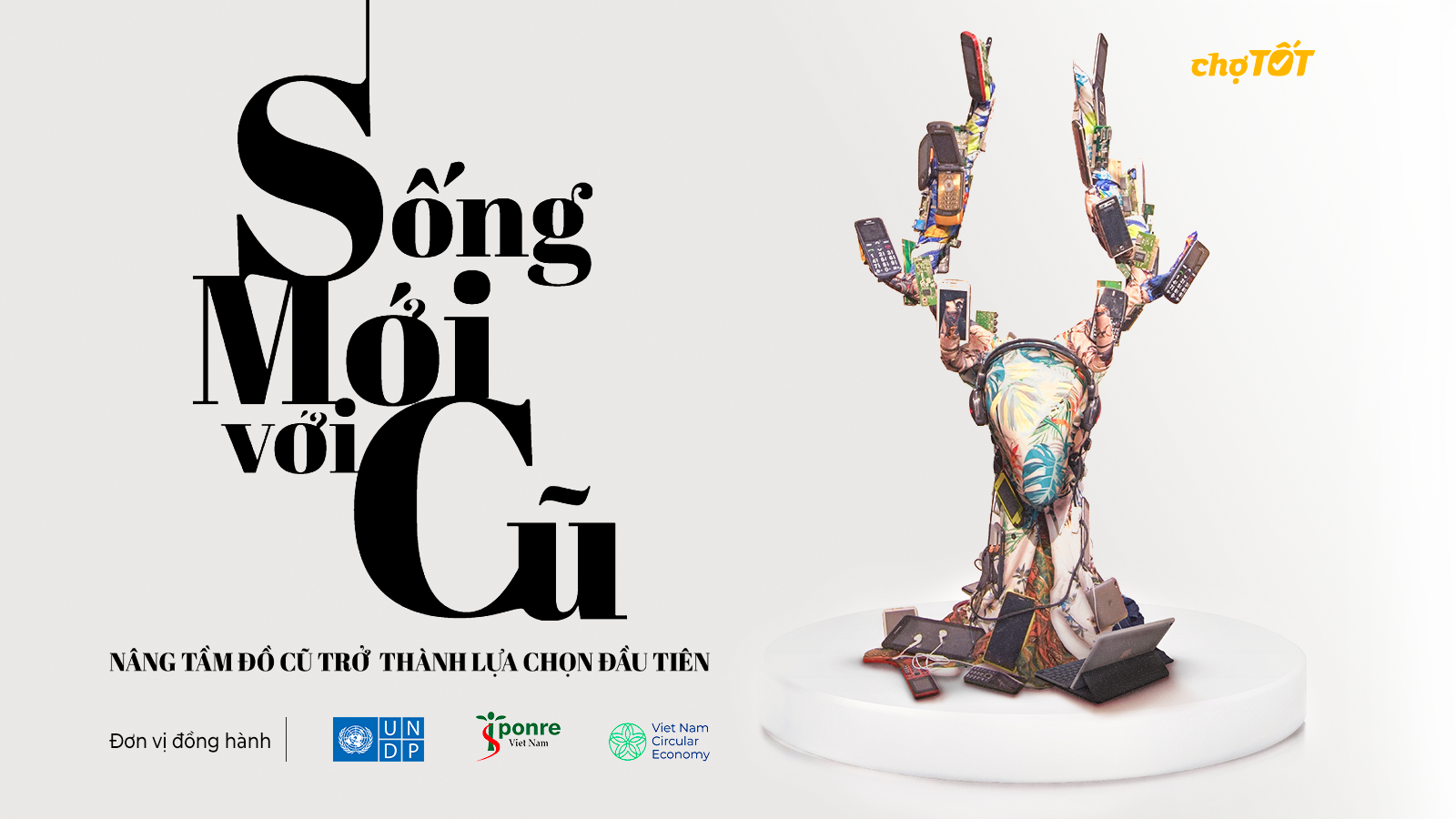 CASE STUDY VIDEO
STRATEGY
Recent rapid economic growth has put increasing and irreversible strain on ecosystems and natural resources. Every year, online sales contribute 520,000 tons of waste, according to data from National Environment Agency 2018. Reusing secondhand items is one of the practical actions promoting sustainable production and consumption. However, in Vietnam, the lack of trust and misconceptions associated with secondhand items were the main reason for the low user adoption rate, as 70% of Vietnamese respondents cite product quality as the reason why they were reluctant to choose secondhand, Carousell Recommerce Index, 2021 report.
Since its establishment, Cho Tot has been aiming to make secondhand the first choice, reinforcing the Vietnamese circular economy that helps the community take steps together towards the Sustainable Development Goal 12 of the United Nations. The business strategy outlines two initiatives: (1) lower the barrier of lack of trust in buying secondhand through product innovation: 'Protected Payment' feature is an escrow payment system that provides assurance to users by holding payment until a transaction is verified successfully by both buyer and seller; (2) increases brand desirability to change behaviors through communications: making it inspirational and worthy to choose secondhand rather than new ones. To conquer business strategy, the campaign targeted the young and progressive segment of 18-35 years old (Gen Z and Millenials), known as society's leading voices. This segment is the beginning of the bowling pin methodology to tackle other more conservative groups.
INSIGHT
Targeting the young progressive generation, we discovered that they prefer socially eco-conscious messages, specifically, in our case, circular consumption messages. To establish a strong connection with the audience, we decided to speak their language through the arts and visualization. Young people can freely express their thoughts and concerns through the arts, allowing them to join hands with the brand and progress toward a sustainable future. As future leaders, we expect the young people who join us to influence their community and increase their concern for sustainable consumption by changing their purchasing habits, as the first step.
To engage with and win over this new audience, Cho Tot overcame their objections to secondhand shopping and developed a compelling reason for them to try the brand. ChoTot's strategy is to increase brand desirability in the presence of a strong value fit and evoke a sense of sharing - when consumers' values align closely with ChoTot's sustainability image and gradually become a part of their lives.‍
CREATIVE IDEA
Cho Tot launched campaign "Sống Mới Với Cũ" (New Lease of Secondhand) to redefine the norm of preferring new over used items and inspire a new sustainable lifestyle: new experiences, new perspectives, and a new future with secondhand. The key hook of the campaign is the first-ever secondhand exhibition in Vietnam, in which all artworks were created using 100% secondhand items. This exhibition brought together the talents of 10 Vietnamese artists who collaborated to create 11 stunning art installations, each one made entirely from pass-me-down sold on Cho Tot.
Some of the artworks that depict the age of waste, the hazardous effects of consumerism and the non-monetary value of giving used items a second chance at life.
● Overconsumption (Materials: used furniture, household appliances & electronics): The overconsumption generates mountains of used items that grow progressively taller and block the sun.
● Metamorphosis (Materials: used clothings & electronics): Like a sleeping cocoon transforming into beautiful butterflies, sustainable living has reawakened the value of neglected used items.
● Rebirth (Materials: used clothing & electronics): Like a tree in bloom, selecting used items over brand-new ones is a significant contribution to the rebirth of the planet.
● Eternity (Materials: used books): Don't judge the books by its cover. The true value is here to stay eternally.
● Expedition (Materials: used LED lights and irons): Cho Tot's decade-long voyage inspired Vietnamese to engage in sustainable secondhand trade. Millions of used items are repurposed annually, conserving hundreds of tons of natural resources.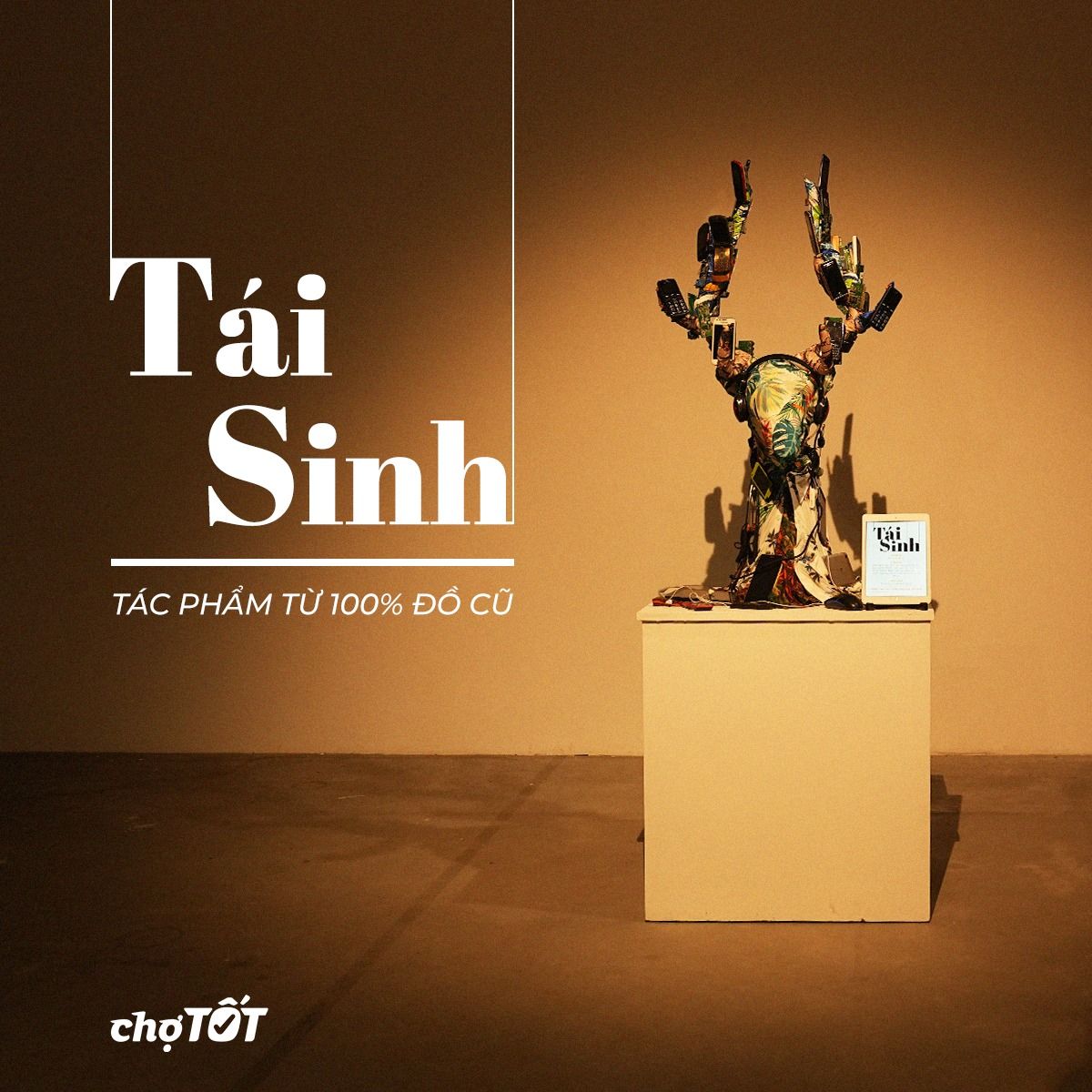 Through the exhibition, we told the story of the transition of secondhand transactions from the least concerned economy to the ascending economy that people have deemed to be the future. Not only young people, the exhibition provided a forum for everyone to discuss the importance of second-hand transactions to the preservation of the environment. It connected individuals with shared values so that they could join hands and move forward, and made a statement in the public community so that more people can discuss circular consumption.
CONNECTION PLAN
The campaign highlighted a seamless online-to-offline-to-online journey across all touchpoints from awareness, engagement to transaction. By partnering with the United Nations Development Program (UNDP), Institute of Strategy for Natural Resources & Environment Policy (ISPONRE) and Circular Economy Network (CE Hub), the campaign's credibility and advocacy were bolstered by their available communities. Cho Tot utilized the prestigious network of these partners, which included their fan bases, consultants, journalists, and celebrities. These artworks were showcased at VCCA - Vincom Center, one of Vietnam's biggest shopping malls in Ha Noi, making it accessible for young people to visit and enjoy the exhibition. After the event, the artworks will continue to disseminate the message by being displayed at formal events and in public spaces: Inception Conference To Develop A National Action Plan For Implementing Circular Economy In Vietnam - Viet Nam National Convention Center, the UNDP building, and universities, which could cause a daily buzz. And to reach even more people, the exhibition was also digitized so that anyone could take a virtual art tour from anywhere.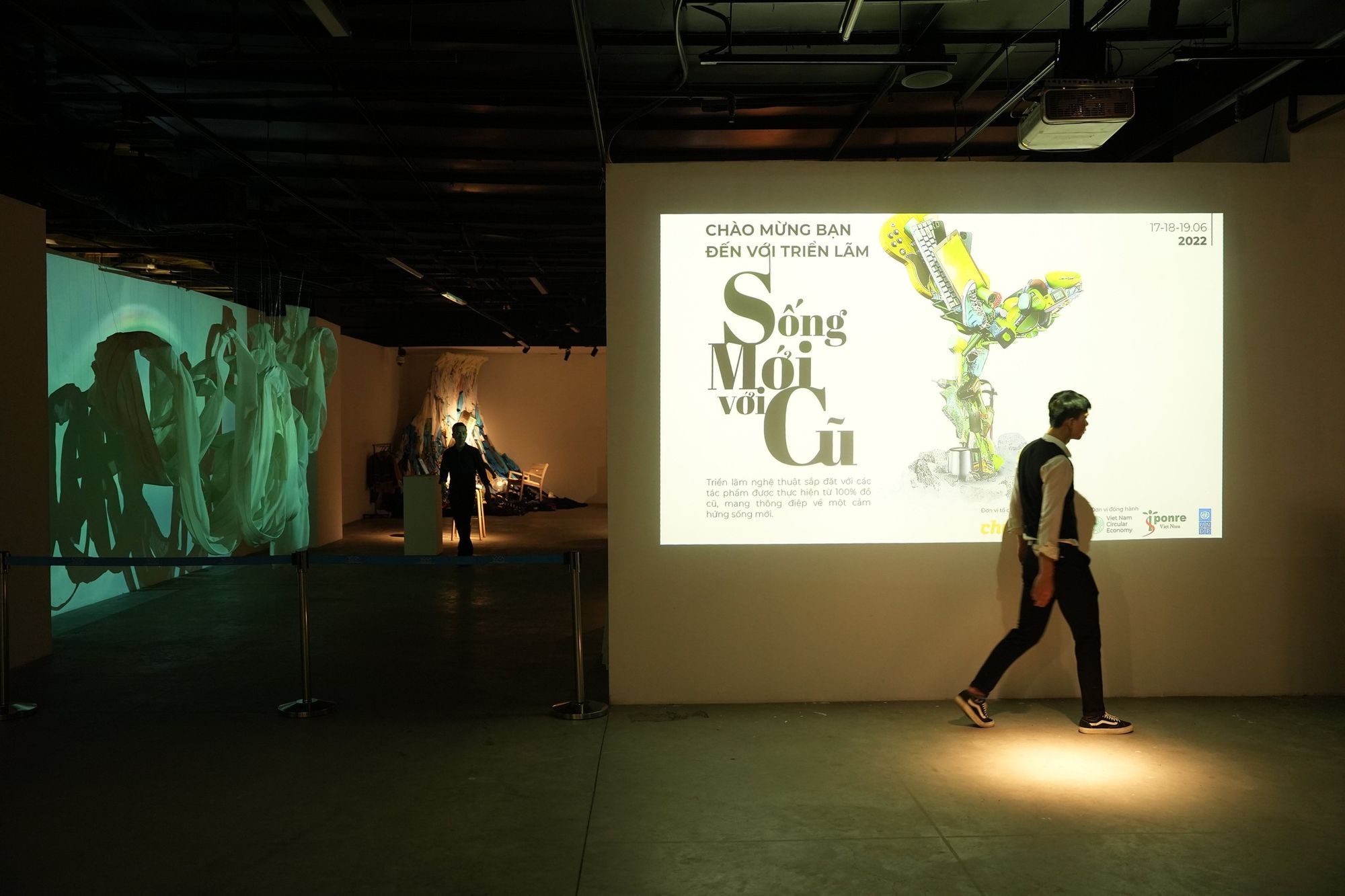 A series of viral videos and engagement activities surged into the public consciousness and kick-started a reckoning that has changed people's day-to-day consumption. To tackle customers' daily occasions with tailored messages, the message was adapted into a series of educational contents on Facebook amplifying the new lifestyle with secondhand: living new with used clothes, living new with used furniture, living new with used iPhone, etc. The new green lifestyle and hundreds of KOLs, journalists, and user-generated materials swamped social media and tapped into people's intrinsic call to promote sustainability.
In the conversion phase, Cho Tot released Vietnam's first protected payment and instant delivery for second-hand trading. Protected payment holds money until the buyer and seller confirm a transaction successfully. With the new re-commerce experience on Cho Tot, buyers only need to click 'Buy Now' and make payment, and the item will be shipped to their address as seamlessly as buying a brand new item on e-commerce sites. If they do not receive items or if the items do not match the description, buyers will be refunded in full.
From the exhibition in the Awareness phase to the upgrade of protected payment in the Conversion phase, Cho Tot has consistently sought to change people's attitudes toward secondhand transactions. Cho Tot created a shared-value community across all social media touchpoints where anyone can discuss circular consumption and take action with Cho Tot.‍
OBJECTIVE-BASE KPI
Thanks to the word-of-mouth effect, the exhibition welcomed approximately 100,000 offline and online visitors. Dominating the news cycle for weeks on end, the campaign earned massive publicity with 50 million impressions, 8 million social engagements, and more than 335 media news with a media value of 1 million dollars. Significantly, Cho Tot is celebrated as one of the top 10 most outstanding brand events in July 2022 (as reported by Buzzmetrics). These resulted in uplifts of 5% TOM, 16% brand consideration, and 154% social mentions compared to before the campaign. Remarkably, the campaign recorded a 450% uplift in used item trading transactions. In one year, Cho Tot & users did save 471,000 tons of carbon footprint, 120,000 tons of industrial solid waste instead of new material resources extraction
In the wake of the campaign, Cho Tot, ISPONRE, and UNDP established a long-term partnership. 10 million users from Cho Tot are going to become circular economy advocates by buying and selling 2nd-items, then contributing to a crowdfunding activity led by UNDP to support other circular economy transition programs. This campaign was a watershed moment in ChoTot's efforts to reinforce sustainable consumption that helps the community take steps together towards fulfilling the Sustainable Development Goal 12 of the United Nations.
RECOGNITION